Steaming to Success – EMRC Report
CLICK HERE TO READ EMRC's FULL REPORT  
In Mid-April 2016, Jeremy Winer, in conjunction with EMRC, was steaming to success with 5 training sessions over 5 days to teach participants how to use the robust, commercial-grade, weed control machine of the Weedtechnics Range (then Steamwand Range). The training sessions were attended by close to 40 people who work with weeds in a variety of environments. As you'll soon see, the training was a success. And as one of our participants put it:
"Good luck trying to use the Steamwand (now Weedtechnics) without training. Thorough and Necessary."
Let's dive into it, shall we?
The Eastern Metropolitan Regional Council (EMRC) is a progressive and innovative regional local government authority working on behalf of six member councils located in Perth's eastern suburbs. By partnering with member councils the EMRC facilitates strategies and actions for the benefit and sustainability of Perth's Eastern Region.
The EMRC recently received two lots of Government grants from the Department of Parks and Wildlife (DPAW). One grant was for the purchase of a Steamwand SW700 (model now discontinued), the second was to put 40 member council operatives through the steam weeding training provided by Jeremy Winer. 
EMRC also received another grant from the Western Australian Government's State NRM Office to undertake an alternative weed management trial. The project, named Steaming to Success, will monitor, test, and compare the Weedtechnics method of saturated steam and boiling water to other non-chemical weed management strategies.
(For more information on holistic weed control practices download your free scientific research paper).
The SW Machine Training: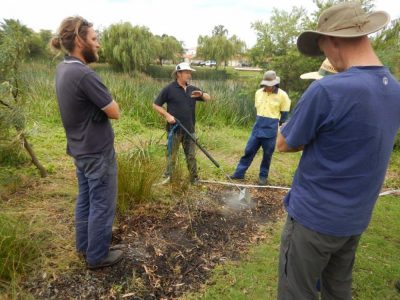 The training sessions were done over 5 days with groups of 6-8 participants each day. The trainings were also done across a number of locations around Perth to showcase the countless environments in which the Weedtechnics Range (then Steamwand Range) can be safely used. Some environments we visited include environmentally sensitive wetland and creekline areas, small bushland reserves, landscaped parks, gardens and verges.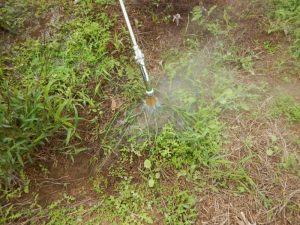 Jeremy gave an in-depth introduction to the alternative methods of weed control and highlighted
1.      The numerous hidden costs associated with chemical management.
2.      The key steps involved in creating a chemical-free weed management program.
3.      Various strategies one can use to reduce weeding time and increase efficiency.
About the Author :
Jeremy Winer
Jeremy Winer has 30 years of practical experience in implementing integrated holistic approach to weed management across urban landscapes, recreational parklands and wetlands. He currently runs Weedtechnics specialising in providing chemical reduction and non-toxic weed control programs to municipalities across Australia. He has developed, patented, manufactured, and commercialised the Steamwand method of creating saturated steam for vegetation control.