Builds Soil Health
Satusteam™ enhances soil health by rapidly destroying weeds, which then become detritus, nourishing soil organisms and promoting the development of a humus layer.
Read More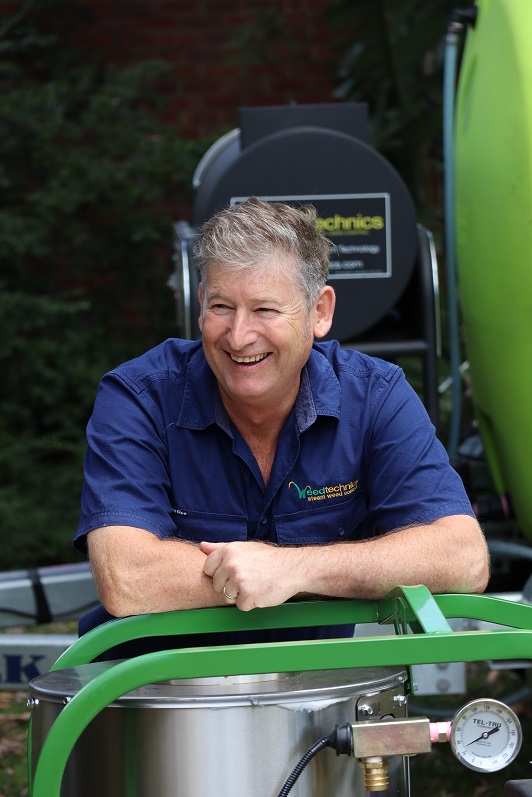 Globally Trusted Brand
Weedtechnics is a globally trusted brand with over 25 years of experience and a dedicated customer base spanning horticulturists, schools, landscape contractors, and numerous satisfied clients worldwide.
Non Abrasive Cleaning
Satusteam™ is a versatile multipurpose tool, seamlessly transitioning from weed control to cleaning with quick-change applicator heads, ensuring convenience and efficiency. 
Read More
Feel liberated from chemicals, because Satusteam
Is herbicide -free weed control.
Supports organic accreditation
Is safe to use around pets and people
Allows you to use treated areas immediately after application
Has no spray drift causing off target damage
Can be operated in windy and rainy conditions
Cannot cause groundwater contamination
Requires no yukky respirators and sweaty spray suits
Optimum Hydro-Thermal Performance
Satusteam™ weed control programs will lower your weed management costs over time.
Thermal Shock 100° C Is The Magic Number
There is a misconception that steam weed control is slow and costly, but when implemented correctly a Satusteam™ weed control program lowers costs over time. Here's why
Satusteam™ destroys all soft-leaved and stemmed vegetation on contact and has some penetration into the meristematic growth points, eliminating the weed or dramatically retarding its regrowth.
Satusteam™ uses pressurised water heated to 120°C, delivered to weeds gently at 40-60 psi (similar to the pressure of rain) and at 100°C causing the plants cells to burst on contact. This also destroys the protective waxy cuticle of the plant, leading to rapid dehydration and decomposition in the soil.
Destroying the above ground leaves and stems eliminates the plants ability to photosynthesise. If it has a strong root system it must use the store of energy/ starches in the roots to repair and regrow. Repeated applications wear it down to a point where it no longer returns..
Satusteam™ effectively controls herbicide-resistant weeds, such as Bidens, flickweed and liverwort, breaking the resistance cycle. In most cases Satusteam™ eliminates the need for pre-emergent herbicides. Satusteam™ manages the seed bank, as it either de-natures weed seeds upon contact or facilitates their germination with heat and water. When these seeds sprout, Satusteam™ easily eradicates the young seedlings. This all results in fewer weeds, fewer species, and less weed pressure each treatment. That reduces your weed management costs over time. And we all want that, right?
SatusteamTM Supports Soil Health And Nutrition
There has been some misconception that 'steam' is damaging to soil organisms.  That is not the case for Satsuteam™ .  Imagine a weed control that gives you the satisfaction of destroying weeds and improving your soil life in one process! Here's what happens.
Every Satusteam™ treatment turns your pesky weeds into a layer of freshly cooked vegetative matter. This layer of cooked vegetation is initially a thin layer of mulch and with a little time adds to your soil's humus layer.   Studies have shown there is an increase in microbial activity after treatment breaking down the dessicated weed material into soil organic matter.  
Satusteam™ weed control targets surface vegetation and penetrates up to just 5mm into the soil. This precise approach ensures that beneficial soil microbes, fungi and bacteria, essential for soil health, remain unharmed.
This independent study by students of Permaculture shows that Satusteam™ increases microbial activity in the soil after treatment. (Click here to download)
Low Pressure, High Temperature Cleansing and Sanitisation
Pressure washers are abrasive and damaging. Satusteam gives you the satisfaction of cleaning and sanitising without damage and  Satusteam uses at least 50% less water per minute than pressure washers.
Satusteam™ machines are not only great for weed control, they make cleansing and sanitisation an easy job. Quickly remove gum, moss, biofilm, dirt and grease from any hard surfaces like pathways, driveways, gutters, walls, street furniture, and playground equipment.  Even rubber softfall and synthetic surfaces can be rejuvenated and sanitised.
Delivered at low pressure you'll get the job done without being covered in high pressure splashback debris or exposure to toxic cleaning chemicals.  That would make  for  a good experience, wouldn't it?
Satusteam™ Unmatched Versatility
Versatile Applicator Heads To Make Most Of The
Satusteam™ Technology
Satusteam™ is versatile with specialized applicator heads for spot weeding, hard surfaces, parks, gardens, horticulture, and agriculture, ensuring effective weed control in various settings while maintaining quality and efficacy. 
Our patented nozzle system depressurises the superheated water; to give a safe and controlled delivery. The 'Satusteam™' coats the vegetation rapidly at low pressure, which gives you great productivity.
Explore our range of applicator heads here.  
If you think Satusteam™ may have a place in your weed management program, start a conversation with one of our Satusteam experts.
We have assisted more than 50+ municipalities, 100+ farmers, and 100+ landscape contractors implement Satusteam™ throughout Australia, USA, Canada and New Zealand over the last 15 years. The process is simple. We listen to your situation and if we have a solution we will show you the options in an online meeting to tailor a bespoke solution that gives you back the control over your weeds. If that sounds like a plan, let's chat.
The Best Chemical Free Weed Control Solution Suitable for
Satusteam™ Frequently Asked Questions
Is Satusteam™ same as steam based weed control?
Satusteam™ from Weedtechnics is created by increasing the boiling point of water through pressurisation, allowing the water to be superheated to approximately 118 – 120 oC without it actually boiling. This allows the superheated liquid to be delivered through the delivery hose and cool touch lance to an applicator head. The superheated liquid is depressurised in a depressurising nozzle assembly, expanding into a mixture of Saturated Steam and boiling water, which we call Satusteam™….read more
Is Satusteam™ technology weather proof?
Yes, Satusteam™ can be used in during Windy and Rainy conditions. There is no Spray drift or groundwater contamination whatsoever.
Does Satusteam™ support organic certification?
Absolutely, SatusteamTM supports growers and farmers with Organic Certificate Accreditation.
There are a growing number of organic farmers and growers who are switching from Organic herbicides to SatusteamTM