Seven Considerations
With the increasing knowledge about the health effects of repeated exposure to glyphosate; Landcare groups are opting for a range of alternatives. 'Steam' has proven to be a valuable tool, particularly for some invasive species like Mother of Millions and Tiger Pear, but before you spend your hard fought for grant money, consider some of the features that will make huge differences in your productivity.
 Lack of output volume; will slow progress dramatically.
 Thermal shock 98°-100°C/208°-212°F at the weed, cooks weeds instantly, even a few degrees lower slows the process down.
 Depressurised 60psi steam and boiling water, Satusteam© is preferable to pressurised heated water.
 Short hoses of <25m/82′ reduce access and decrease productivity.
 Carry as much water as possible on the vehicle. Travelling to refill tanks is time-consuming.
 The ability to change applicator heads, in less than 2 minutes, ensures your operators can target specific species and adapt to conditions.
 Ensure you have access to strong knowledgeable technical support to assist you to troubleshoot. After all, in-depth knowledge about burners is not all that common, at the moment.
There is more detail to follow, but first, let's destroy a myth about steam weed control. Steam, the vapour seen rising from applicator heads, is the minute vapour droplets has no lethal temperature associated with them. It's the large coalesced droplets of boiling water that are the treatment fluid. This fluid is a mixture of saturated steam and boiling water, which we call Satusteam©.
It is not generated in a pressure vessel, like a soil steriliser or home heating system, but in a continuous flow hot water heat exchanger. It delivers enough volume, delivered at a 98°-100°C / 208°-212°F temperature at the weed to explode soft-leaved cells on contact. The thermal shock takes just 1/10th of a second.
When fighting Weeds with Steam – Volume Matters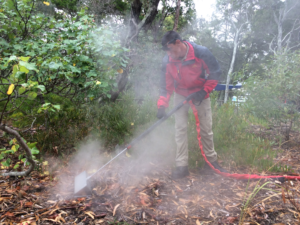 In Landcare situations, you need serious killing power to fight difficult weeds. Our machines were first developed to treat weeds in municipal areas such as crack and crevices in footpaths and paving. 5 litres/ 1.3 gal a minute works well in that situation, but in Landcare and regeneration environments you will want a machine that delivers 10 litres/2.6 gal per minute.
Vegetation in soil and mulch grows more vigorously than in the harsh pedestrian environment.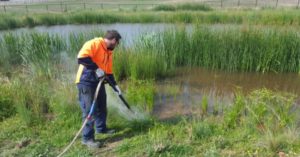 The roots are more established and often the vegetation being controlled may be a ground cover or established grass. 5 litres or 1.3 gal/min machine such as the SW800 can be used, but productivity will increase dramatically, as well as your satisfaction level, with double the volume. Our contracting customers, who have their choice of machines, will choose the SW900 for controlling weeds in the soil every time.
The SW900 can be set up with dual reels and have 2 operators, adding to its versatility.
Temperature up close is key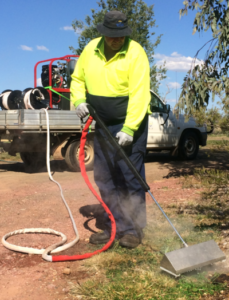 Back in the early 2000s, I learnt a valuable lesson. Hot water of 96 or 97°C/ 204° or 206°F makes progress/work much slower than using boiling water when the aim is to explode plant cells. Weedtechnics SW machines superheat the water as it passes through the steel pipe inside the burner chamber. Because it is pressurised the water can be heated up to 115°-120°C/ 239°-248°F without boiling. Pressurisation raises the physical boiling temperature of water to over 300°C/572°F. We maintain this pressure through our delivery hose and lance, right up until it passes through our unique nozzle system. What this means is that your superheated water doesn't flash into saturated steam and boiling water (Satusteam©) until it is within 5cm/0.16′ of the target. There is no time for it to cool in the atmosphere, therefore transferring maximum heat into the target vegetation.
The depressurisation advantages
The Satusteam© system pressurises the water for 2 reasons. Firstly, it raises the physical boiling point of the water allowing superheating. Secondly, it allows delivery of the super-heated water over any distance up to 100m/328′ from the boiler and still delivers Satusteam© at 100°C/212°F.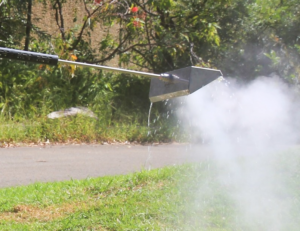 Our patented nozzle system depressurises the superheated water; to give a safe and controlled delivery. The maximum-heat Satusteam coats the vegetation rapidly, which gives you great productivity. Depressurized Satusteam© does not displace mulch, compact soils, inject into desirable roots or damage soil structure.
Reach and rewind makes work easy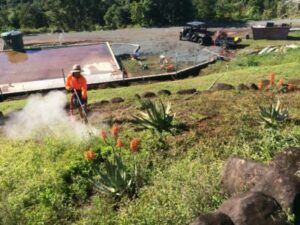 Landcare and revegetation works are rarely in compact areas. So, look for a unit that can deliver the volume and temperature over a long distance. Because of our depressurisation advantage, the Weedtechnics Satusteam© system can deliver Satusteam© at 100°C/212°F up to 100m/328′ from the boiler. Our standard Landcare reels can house 60m/197′ of covered hose on an automatic remote rewind reel. This gives incredible reach and versatility to your work. When you are done, press the remote button and the reel winds the hose in for you.
Water carrying capacity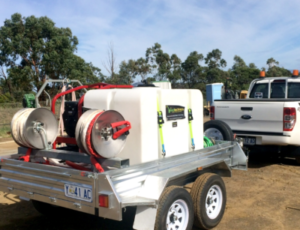 We have established that 10L or 2.6gal/ minute is going to give you the most productivity when dealing with weeds in broad Landcare environments.
A 400L/106gal water tank will give less than 40 minutes of work. A 1000L/264 gal tank will give you 90 minutes. Consider the effect on productivity with having a limited water supply.
Variety is the spice of life
Mother of millions, Kikuyu, Couch, Hydrocotyl and similar ground covering vegetation is best treated using a 35cm/1.1′ or 60cm/1.9′ wide covered head.  The covered environment encapsulates the heat ensuring there is the maximum transfer of heat to the plant material. Covered heads also allow application under the foliage of desirable plants without fear of off-target damage.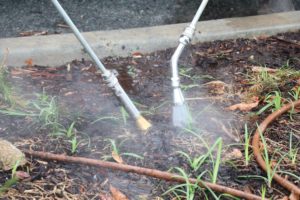 Tiger Pear is best treated using an open head, that can be used to coat the entire above ground portion of the plant. With the same head, tussock grasses are managed well having a good dose of 10L 0r 2.6gal/ minute of Satusteam© delivered into their crown. When you are done with the work on site and want to sanitise your vehicle tyres and remove any seed from plant and equipment, you will want to be able to use a pressure nozzle in your Satusteam© weeding machine. Weedtechnics have developed the threaded quick coupling system that allows you to change between nozzles within 90 seconds.
In most cases, following safe work methods, you may not need to turn off the machine or cool it down. This can be followed up with a steam spike injection.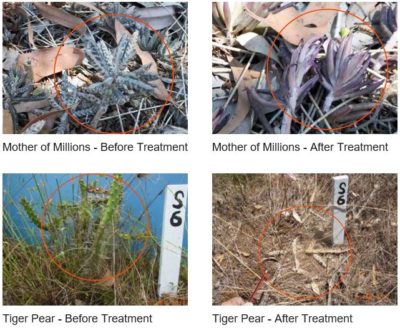 Technical support
Use of burners and boilers by Landcare practitioners is new, so you want to know that there is support just a call away and that they know how to troubleshoot. Weedtechnics have developed this system over the last 20 years and have been using our US made, clean burning, fuel efficient boilers for the past 10 years.
We know intimately how to troubleshoot and have assisted many customers get up and running with phone support, without them having to leave their sites.

The ideal Landcare Trailer – when it comes to killing weeds with steam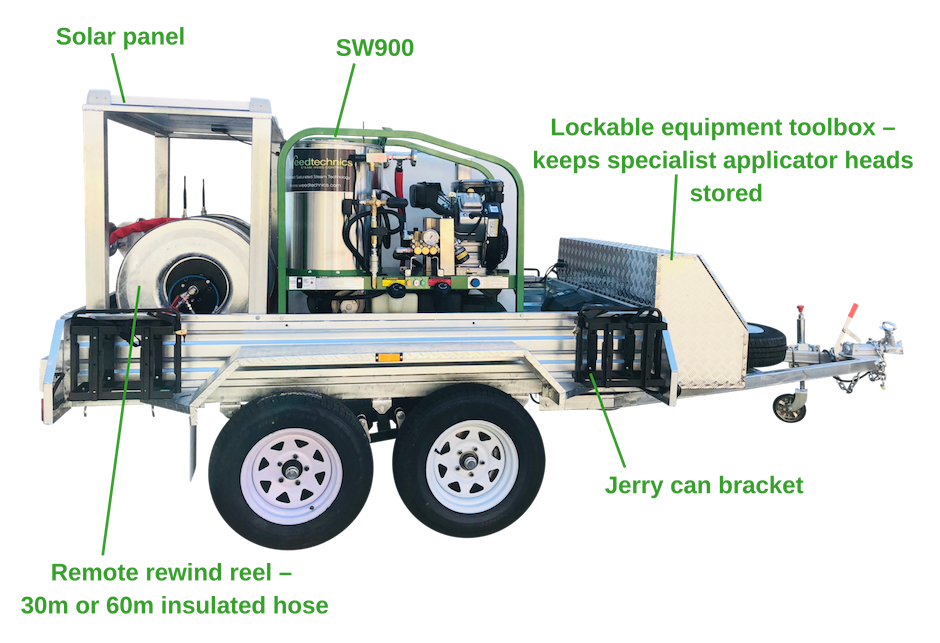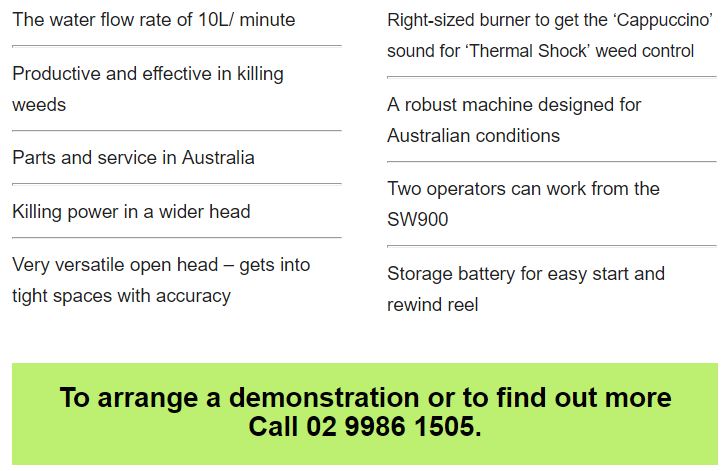 About the Author :
Jeremy Winer
Jeremy Winer has 30 years of practical experience in implementing integrated holistic approach to weed management across urban landscapes, recreational parklands and wetlands. He currently runs Weedtechnics specialising in providing chemical reduction and non-toxic weed control programs to municipalities across Australia. He has developed, patented, manufactured, and commercialised the Steamwand method of creating saturated steam for vegetation control.