Tali and Jono Shelley are siblings and together have a holistic land restoration company Bushtekniq, www.bushtekniq.org. They purchased their SW900 from Weedtechnics in March 2018. Being a chem-free bush regeneration business from their commencement has allowed them to explore a world full of 'tools n tekniqs' for holistic land management.
Trigger:
A deeper understanding of the negative effects of glyphosate in an ecosystem
A desire to explore alternative techniques and holistic management methods.
Being an active part of the positive change, moving away from herbicides.
Machine Solution:
Using the SW900 aligns with their ethos of holistic land management. Tali said in relation to their speciality of land restoration, "Saturated steam weeding is a specialised tool, ideal for zones which are difficult to hand weed or are being dominated with a carpet of weeds like Singapore Daisy. Satusteam™ application in these zones is ideal before replanting with native species."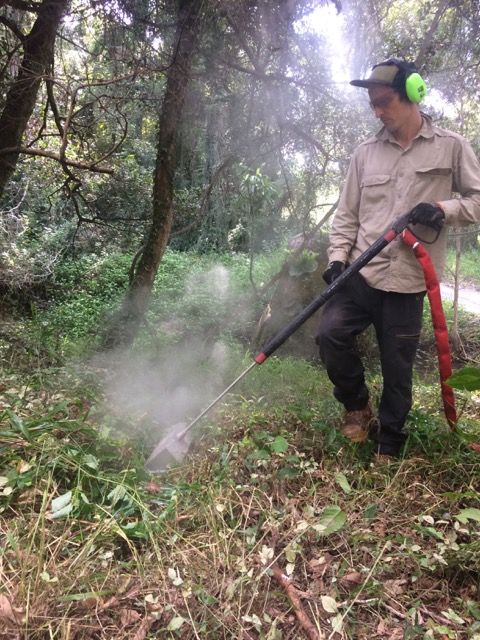 Tali explained that the training and support provided by Weedtechnics founder, Jeremy Winer, with his knowledge and innovation, assisted them to feel more confident in the effectiveness of Satusteam™ in a bushland setting on some of the more vigorous weeds. The 60m reach of the delivery hoses makes most of their sites reasonably easy to manage.
Ongoing Project:
Their projects include bushland sites for council, community and land-holders.
Together they facilitate workshops and presentations on holistic land management around the theme: relearn, regenerate and reconnect.

Results:
Some of the benefits they have experienced include:
Using Satusteam™ to manage a site allows people to interact more safely with their environment or 'connect to the country' without exposing themselves (or their animals) to harmful herbicides.
Managing weeds with Satusteam™ has minimal disturbance on soil structure and can contribute to the level of organic matter in the soil and the overall health of each site.
Using Satusteam™ alongside other holistic land management techniques enables efficient and effective long-term outcomes. Satusteam™ weeding takes the hard work out of intensive hand weeding on land management projects.